Shadow Shifter ADULT Heat Reactive Color Changing T-Shirt Like Hypercolor
Shadow Shifter ADULT Heat Reactive Color Changing T-Shirt Like Hypercolor
Product Code: SSCN44SSPK-PP-S
Availability:In stock
Size chart
ADULTS Short Sleeve T-shirts
WE ADVISE TO GO ONE SIZE UP FOR A LOOSER FIT
| | | |
| --- | --- | --- |
| Size | Chest |  Height |
| S | 38" | 25" |
| M | 40" | 26" |
| L | 42" | 27" |
| XL | 44" | 28" |
KIDS Short Sleeve T-shirts
AGES SHOWN BELOW ARE ESTIMATED
| | | | |
| --- | --- | --- | --- |
| Size | Age | Chest |  Height |
| YXS | 4-6 | 26" | 17" |
| YS | 6-8 | 28" | 19" |
| YM | 8-10 | 30" | 21" |
| YL | 10-12 | 32" | 23" |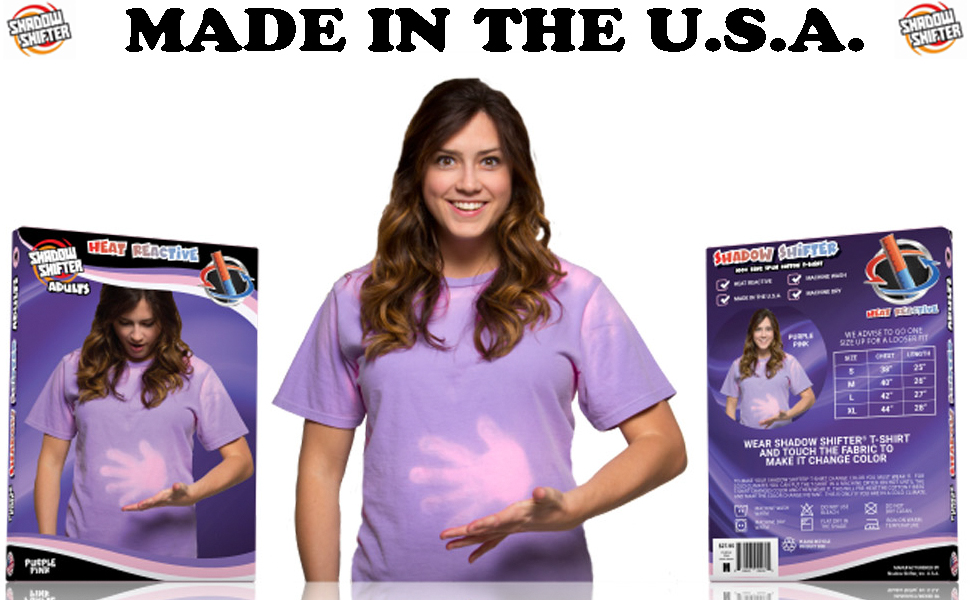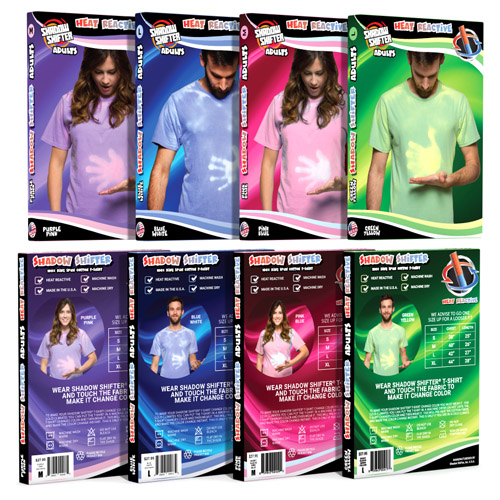 HEAT REACTIVE

HEAT ACTIVATED
SMART TECHNOLOGY
SOFT HAND FEEL
ALL OVER COLOR CHANGE
COLOR CHANGING
UNISEX T-SHIRT
BRIGHT COLORS
CREW NECK T-SHIRT
100% RING SPUN COTTON
MACHINE WASHABLE
MACHINE DRYABLE
MADE IN THE U.S.A.
HOW DOES IT WORK?

Simply wear the t-shirts, touch the fabric and it will change from one color to another.  When the fabric cools down it will change back to the original color.
HOW LONG DOES IT LAST?

Your Shadow Shifter t-shirt will change color and wash/dry for years of fun.  
It is machine washable and machine dryable.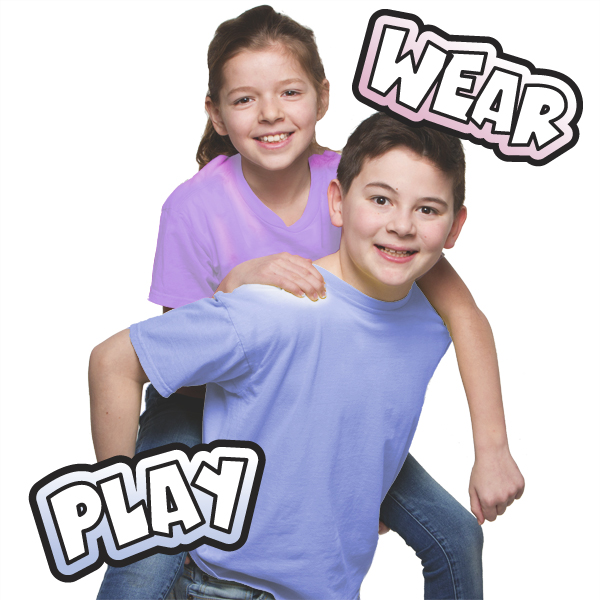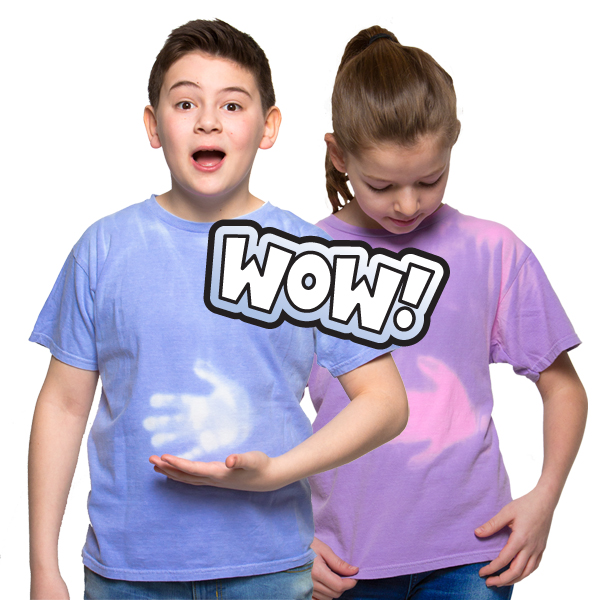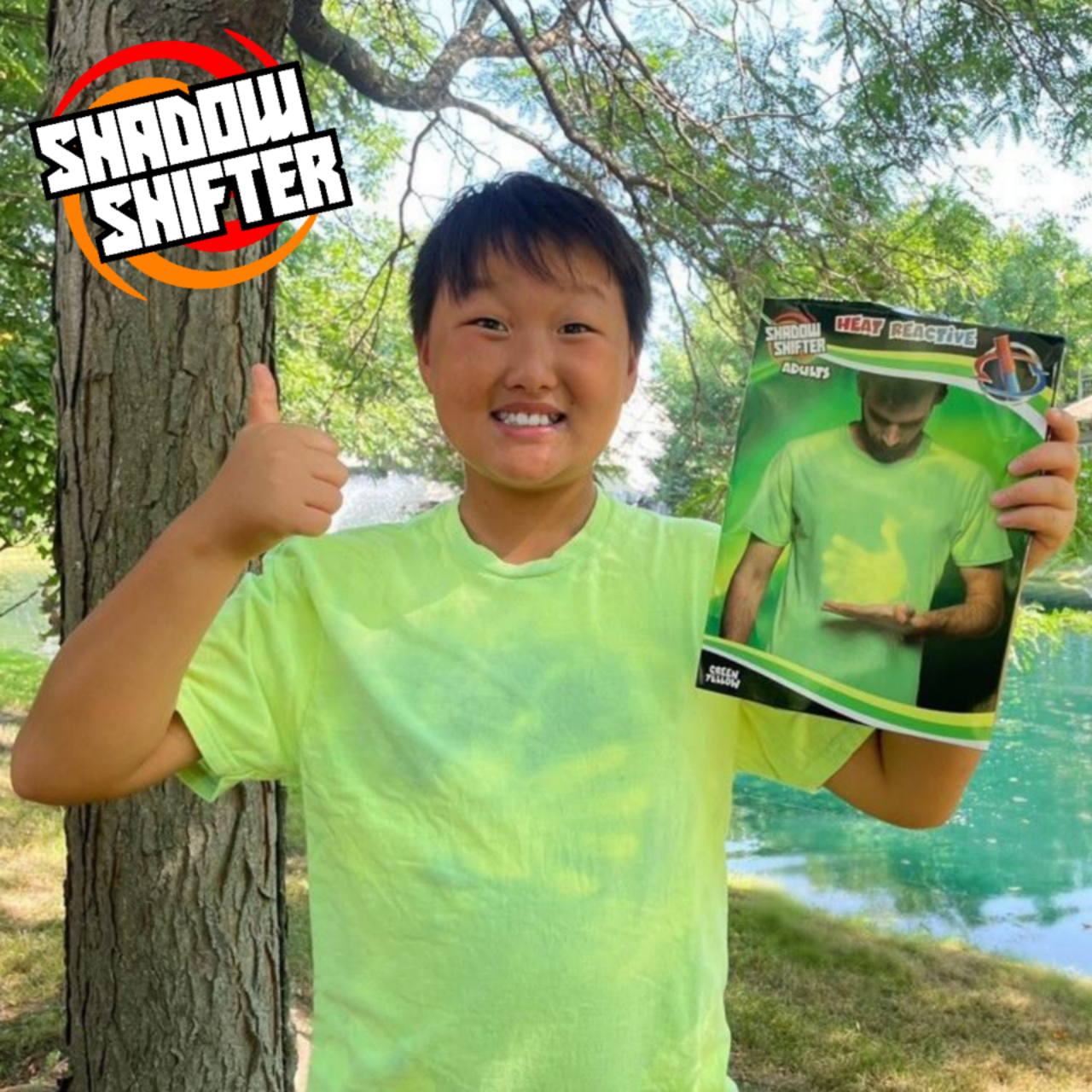 "Designed, researched, manufactured, packaged and warehoused in the U.S.A..  High qaulity and available from our East and West Coast warehouses covering 97% delivery in 2 to 5 days."
ADULTS Short Sleeve T-shirts
WE ADVISE TO GO ONE SIZE UP FOR A LOOSER FIT
| | | |
| --- | --- | --- |
| Size | Chest |  Height |
| S | 38" | 25" |
| M | 40" | 26" |
| L | 42" | 27" |
| XL | 44" | 28" |
KIDS Short Sleeve T-shirts
AGES SHOWN BELOW ARE ESTIMATED
| | | | |
| --- | --- | --- | --- |
| Size | Age | Chest |  Height |
| YXS | 4-6 | 26" | 17" |
| YS | 6-8 | 28" | 19" |
| YM | 8-10 | 30" | 21" |
| YL | 10-12 | 32" | 23" |